Wolfe Automotive Group Oil Change For Life
CONGRATULATIONS ON THE PURCHASE OF YOUR VEHICLE!
We would love to welcome you to the Wolfe Automotive Group family and our Oil Change for Life program, THE WOLFE PACK ADVANTAGE! The Wolfe Automotive Group is comprised of Wolfe GMC Buick, Wolfe Cadillac Edmonton, Wolfe Chevrolet, GSL GM City, Wolfe Cadillac Calgary, and Wolfe Canmore. As a token of our appreciation for your loyalty & support, we are pleased to offer you FREE OIL CHANGES FOR LIFE! Simply inquire with our team about the details on how to follow the Wolfe Automotive Group maintenance schedule with your new vehicle purchase and you will not be charged for the cost of the engine oil and oil filter change portion of your service.
Service at any one of our locations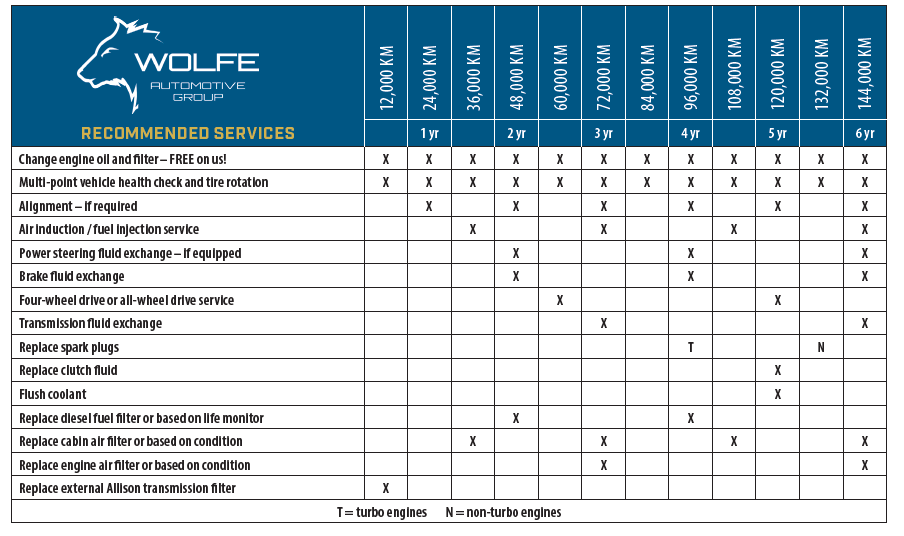 How to book your service visit:
To book your vehicle in for service, please call the reception desk at your preferred location and ask to book your vehicle in for scheduled maintenance. We also offer online booking on each of our dealership's websites under the service tab.
See in-store for more information on the "Wolfe Pack Advantage Oil Change For Life Program"