Here at Wolfe GMC Buick our customer and employee's safety is a top priority. It is for this reason that we have continued to adjust our processes and procedures to ensure that we are not only meeting government health guidelines but also delivering a quality experience. As further developments take place, we will continue to review and monitor our practices to ensure the safety of our clients, our staff, and our communities.
For the immediate future, Wolfe GMC Buick will remain open for business and operating with caution. In response to the various provincial health authority's recommendations, we have taken the following steps:
Disinfecting
Dealership, Daily
We take cleanliness very seriously and have adopted daily procedures to ensure we provide as clean of an environment as possible. This includes taking steps such as
Continuous, daily cleaning of the dealership.
Asking all staff to be diligent in cleaning their surroundings, and to increase handwashing and person hygiene techniques.
We appreciate your desire to also maintain a clean environment, which is why we offer complimentary hand sanitizer with your vehicle service.
Professional, Weekly
We use an all-natural, non-toxic disinfectant in a fogging machine that
Is safe on all surfaces, skin, clothing and children's toys.
Kills over 99.99% of Bacteria including Virucidal, Bactericidal, Fungicidal, and Tuberculocidal spores (eg : COVID-19, HIV-1, Influenza A including H1N1, Norovirus, Mold, Salmonella, Staphylococcus, Pseudomonas Aeruginosa, E-coli, Rhinovirus, etc).
Is made from plant extracts containing Thyme oil and other germ-killing essential oils.
Is safe for use around children, pets, elderly, pregnant women, and chemically sensitive individuals.
Does not require any rinsing or wiping afterwards.
Is made in Canada.
Friendly Greeting & Social Spacing
We have changed the way we greet each other to respect the two-meter guidelines. This includes taking steps such as
Maintaining 6ft of space between staff and customers alike.
Wearing a mask while inside the building as per the Alberta Health Services guidelines.
Adopting the Health & Safety Advisory's "no handshake" policy until further notice. We are still the friendly service providers you have grown accustomed to, and you can now expect a smile under the mask or a wave.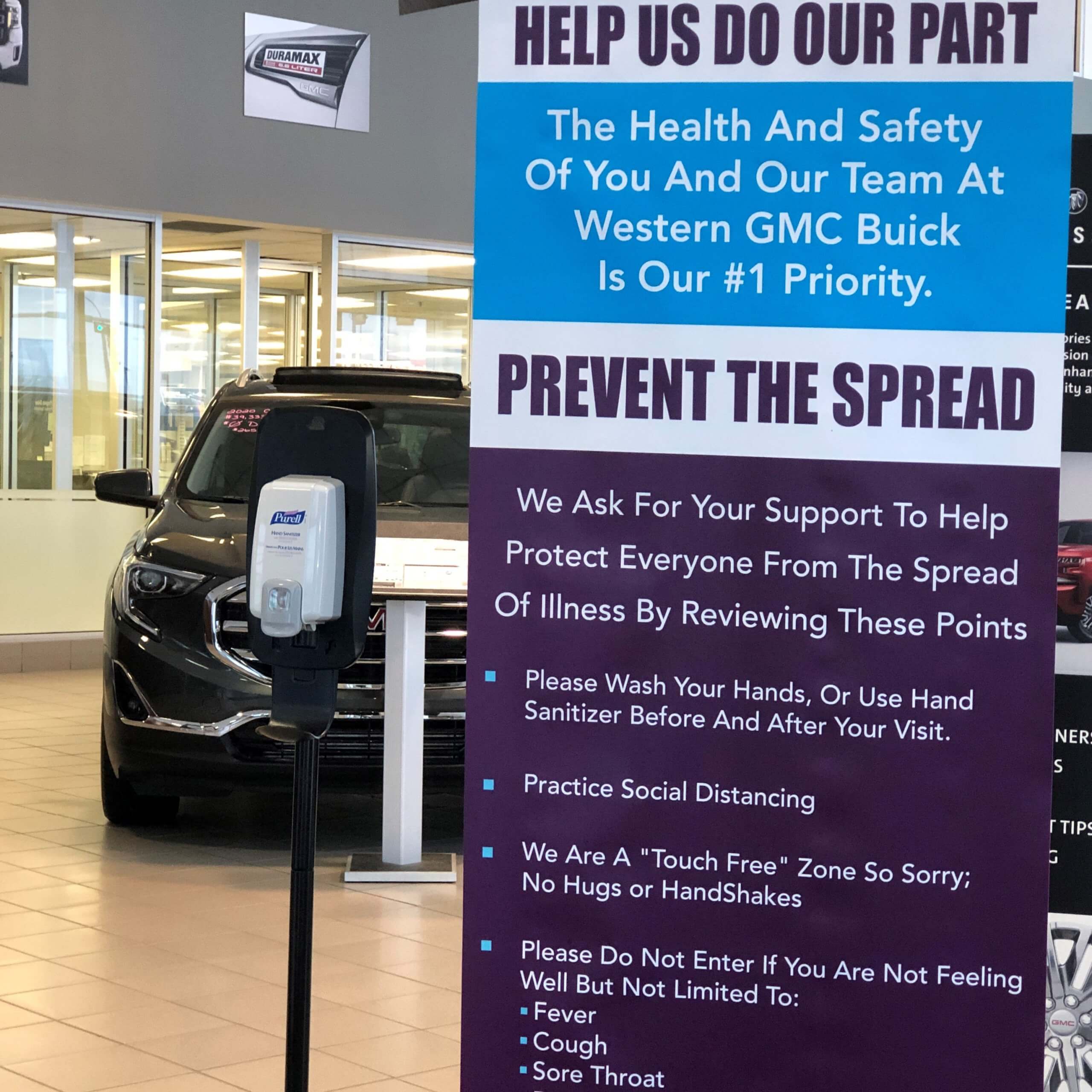 Travel Concerns & Further Development
We are following the Alberta Health and Health Canada guidelines regarding travel. These measures are being taken out of an abundance of caution to keep our communities safe. As such, we are asking
Any employee who has travelled outside of Canada to self-isolate for a 14-day period prior to returning to work.
Customers with upcoming appointments scheduled with us who may be experiencing flu-like symptoms, have recently travelled outside of Canada, or have been in contact with someone who may have the virus, we ask you to reschedule your service appointment to a later date.
Preventative tips during your visit
There are a few steps you can take to maintain a clean environment. These include:
Carrying personal hand sanitizer or disinfectant wipes. Hand Sanitizer is also available throughout our dealership.
Washing your hands in our sanitized restrooms with soap and water for a minimum of 20 seconds.
Avoiding touching your eyes, nose, or mouth with unwashed hands.
Staying home & rescheduling your appointment if you are sick.
When coughing or sneezing:

Covering your mouth and nose with your arm or tissues to reduce the spread of germs.
Immediately disposing of any tissues you have used into the garbage as soon as possible and washing your hands afterwards.
Sales & Finance Resources
If you are a sales or finance customer, we have found ways to assist you that can allow you to stay in your own home for the majority of the sales process. Additionally, GM Financial has services available to assist you. These services include
Wolfe GMC Buick
Video walk-arounds of the vehicles available on the website.
Video chat, phone call or email communication options.
At home or at work test drives.
GM Financial
GM has a dedicated team to assist you. You can call them at 1-888-557-5327 or send an email to their dedicated customer service team at cservice@gmfinancial.com
Find the latest updates on GM Canada's response to Covid-19 at www.gm.ca/en/home/coronavirus.html or visit one of our dedicated brand sites
Certified Service & Concierge Services Available
Let us make servicing your vehicle easy. At Wolfe GMC Buick, our team of service advisors and technicians are taking extra precautions to ensure a safe transaction while servicing your vehicle. You will find we make it convenient by offering:
Online service appointment scheduling, here
Complimentary shuttle rides to your home or work.
Complimentary vehicle pick up and delivery.
On-Site vehicle rentals.
Sanitization of your vehicle.
After-hours drop-off.
Contactless payment, eMail receipts and work orders.
Limiting appointments to reduce contact for social distancing.
All regular servicing items, including vehicle detailing.
To send you photos or videos of the recommended work we find while performing a Multi-Point Vehicle Health Check on your vehicle, so you can make an informed decision. This is available upon request.
Deferred payment with no interest or fees on all Service, Parts, Accessory, and Tire purchases over $250 when you use your Scotiabank GM Visa card.
for more information regarding our Concierge & Certified Services, please contact us at 780-486-3333
---
To learn more about the Alberta Health Services guidelines, visit their site here
our updated hours can be viewed here