2020 GMC Canyon for Sale in Edmonton, AB
You place high expectations on yourself. You aim to not only meet but exceed goals. To do this, you know your tools need to exceed expectations as well. Enter the 2020 GMC Canyon; with its mighty haul and tow capacity, modern amenities and other features, you'll reach a whole new level of performance.
The 2020 GMC Canyon is a truck built by professionals, for professionals. It is designed with a no-nonsense push until the job is done and done right attitude. That is why it has a selection of three mighty engines to choose from, ranging from gas to a turbo-diesel. Each has their own advantages from cost to power to fuel efficiency. The body is a strong construction formed with bold lateral lines leading back to the sizeable box. The box itself is built to maximize capacity and allow greater access and productivity. The interior of the Canyon is loaded with modern tech and conveniences to keep you and your crew connected, organized and comfortable. When it comes to work, you don't compromise and neither does the 2020 GMC Canyon.
The Power to Make Anything Happen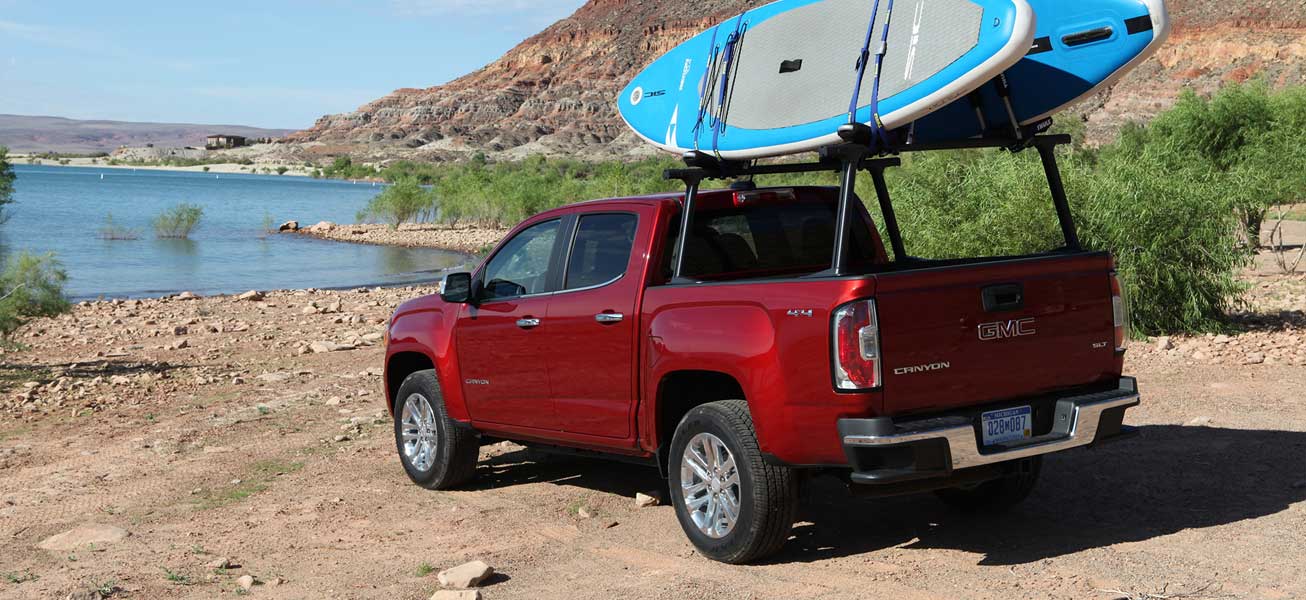 The worth of any great truck can be measured in how much it can haul and tow. With the arsenal of engines available to the Canyon, this is a test it aces. The base 2.5L four-cylinder engine puts out 200 hp/191 lb-ft of torque, enough to haul building materials or tools alike. If moving mountains is your dream, the immense 3.6L V6 can make it happen. It produces 308 hp/275 lb-ft which translates into exceptional haul and tow ability. Finally comes the diesel option; a 2.8L turbo-diesel that pounds out 181 hp/369 lb-ft. It has the strength of giants, but also gets impressive fuel mileage. All incarnations of the Canyon are excellent for moving materials around the Edmonton Industrial areas or the boat to South Cooking Lake.
Work Hard, Play Hard
When you work hard, it's important to play hard too. The 2020 GMC Canyon is loaded with quality of life features and the latest tech to make your down time more comfortable and productive than ever before. Available heated and vented seats, perforated leather and a spacious crew cab allow recovery between sites. Bluetooth connection to your smart device allows hands-free calling, text and app usage. Multiple USB ports and a 4G hotspot assist crews in staying powered up and connected. A rear vision camera aids in backing up and attaching trailers. Power adjustable exterior mirrors allow you to adjust your field of vision on the fly, also useful for trailering.
Take your Experience to the Next Level
Doing the job right, requires the right tool. Because of this, the 2020 GMC Canyon has a vast selection of upgrades and extra options to choose from. The standard Canyon rear seat can be upgraded to a roomier crew cab for added space. An all-wheel drive system is available with all engine models; it provides supreme traction in all road and weather conditions and ensures the Canyons massive power is put to full use. Another very useful improvement is the EZ lift tailgate. It uses internal torsion bars to assist in movement of the gate and rotary dampeners to ease the gate into the loading position. A remote locking tailgate allows you to protect your gear on any jobsite, with the ability to unlock it for others without you being physically there.
Test-Drive GMC Canyon, Today!
The 2020 GMC Canyon is everything a great truck aspires to be. It has excellent tow and haul capacity, a strong and rugged exterior and all the necessary refinements to keep you and your crew at the top of their game.
The team at Western GMC Buick believes in the importance of creating and maintaining a great rapport with our customers and our community. This commitment has helped us to become one of the top GMC Dealers in Canada!
Visit the Western GMC Buick team today at our modern dealership, located at 18325 Stony Plain Rd NW in Edmonton, near Sherwood Park and Stony Plain, AB
Western GMC Buick, We're Making It Easy!